7
years of experience as a photographer
10 000+
hours spent retouching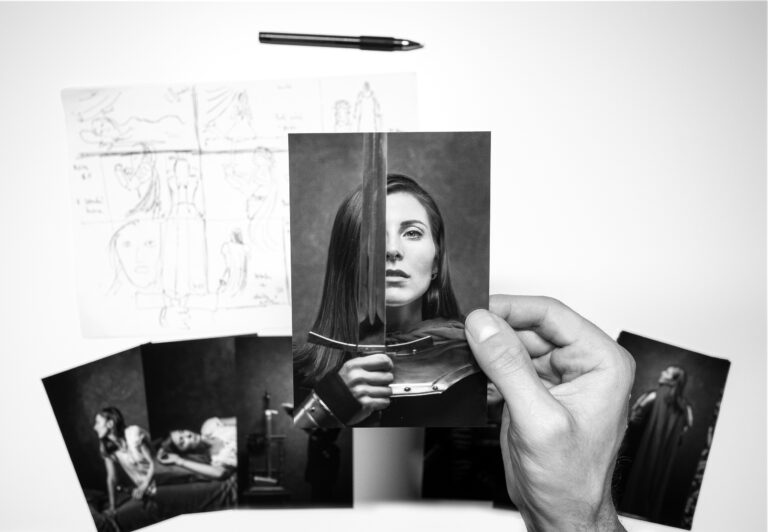 Photo in the background with a sketch of an idea from the "Warrior Woman" series
From childhood he was a big dreamer with a big imagination and soon after school he embarked on a freelance adventure. He worked for a long time as a storyteller in the gaming industry, where he touched on the visual artwork that had attracted him since childhood, and during that time he got to work with visual images. He was completely absorbed by it and slowly and surely became self-taught in the world of photography. He started as a retoucher and classical portrait photographer, worked his way through shooting portraits, families and other commercial assignments, but in the process found that nothing fulfills him more than fine art.
Fine art

In the artistic style of fine art photography, the emphasis is on the individual expression of the photographer and his ability to perceive and depict the world around him. Photographs are often abstract, symbolic or emotive and can contain different layers of meaning and interpretation.
Photography became the means by which he was able to finally materialize his ideas. His lens mostly captures women, full of sensitivity and courage, seductiveness and mystery. His imagination tells stories through symbolic, mysterious and mystical scenes. Sometimes it crosses the boundaries of reality and often leads us into a dark fairy-tale-fantasy world, in which mythological motifs are hidden.
I work with technology and software of these brands:
A very experienced photographer who is carefully prepared for each shoot and the resulting photos are simply breathtaking.
Great shoot 🙂 with a great photographer
Great attitude, fun, professionalism, we will definitely be back.