Sale!
Haunted bundle – Bundle of 48 brushes (Brushes of the moon, smoke, spider webs…)
Add a haunted vibe to your photos with 48 haunted brushes for Photoshop or Affinity
Brushes of moon, Brushes of smoke, Brushes if spider webs, Brushes of flame candle, Brushes of special smoke are ready!
Haunted bundle – DIGITAL PRODUCT
CONTENTS OF BUNDLE:

48 brushes
(brushes for graphic editors in .ABR format)
Brushes are

in 16-bit quality

, but the bundle also includes

8-bit

1 tutorial video

to demonstrate the use of the brushes.
Quality brushes of haunted effects like spider web, smoke, special smoke, or moon for programs like Adobe Photoshop + Affinity photo ready to bring your photos to life.
5 CATEGORIES:
Cobweb brushes(7 brushes)
Haunted smoke brushes (11 brushes)
Moon brushes(10 brushes)
Special smoke brushes (10 brushes)
Flame candle brushes(10 brushes)
Description
Create unforgettable, haunting photos and graphic projects. Brushes of moon, brushes of cobwebs, brushes of candle flames, or brushes of smoke are ready to quickly create a perfectly spooky to horror atmosphere!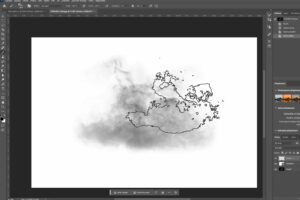 What is Brush? (brush)
Brush is a tool that allows you to paint, draw and edit images on individual layers (typically in Photoshop, Affinity). Brushes have the advantage of always being ready in the program itself and you can adjust the size, hardness and colour, allowing easy creative freedom. Brush size can be used up to 5000px.

Sample of the brushes:



Technical parameters of the brushes:


1x ABR format (contains 48 brushes)

16bit brushes for maximum quality (but also includes 8bit version of brushes)

resolution up to 5000px on the long side

Compatible with:

Adobe Photoshop CS6+, Affinity photo, Adobe Photoshop Elements, Corel Painter, Zoner Photo studio X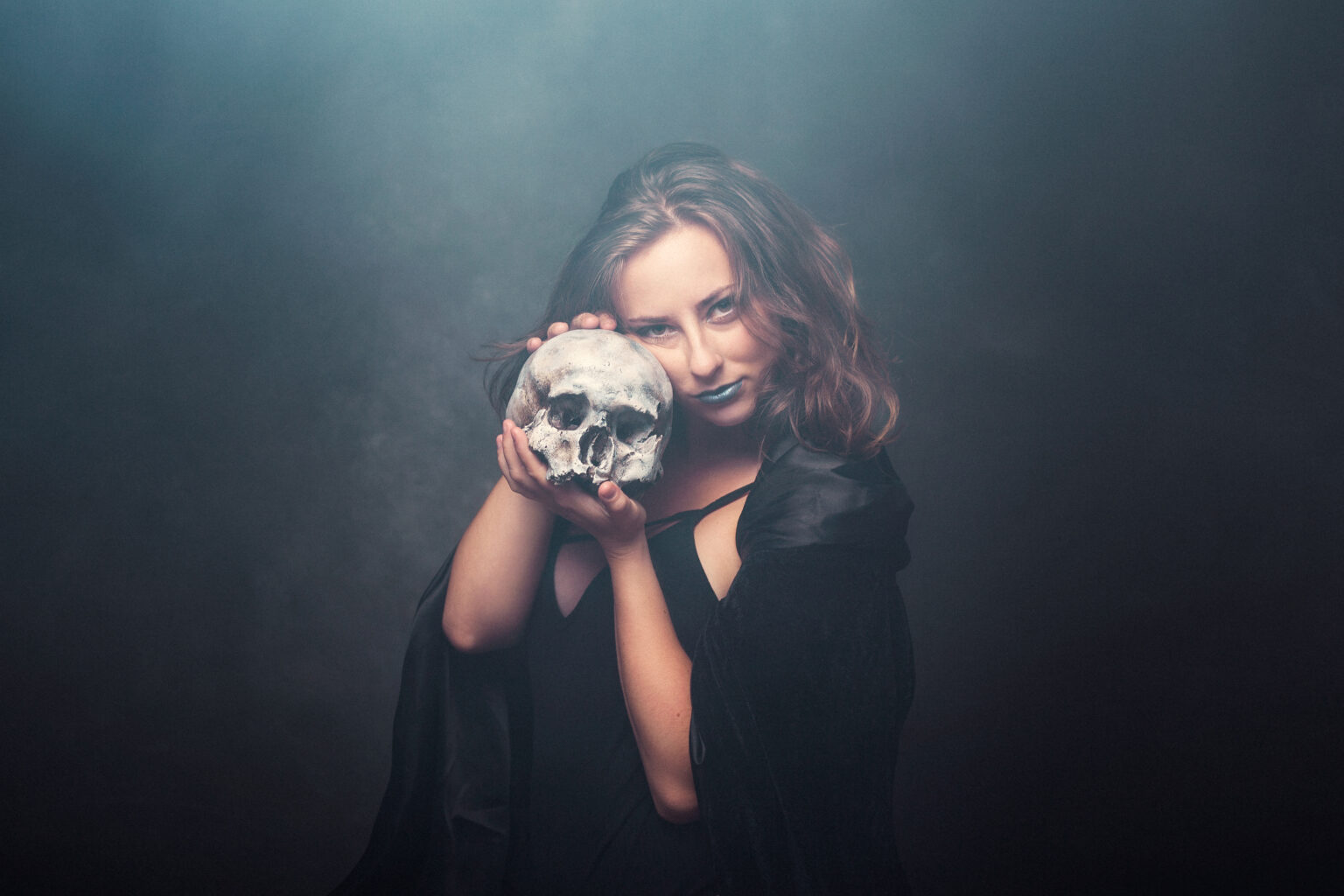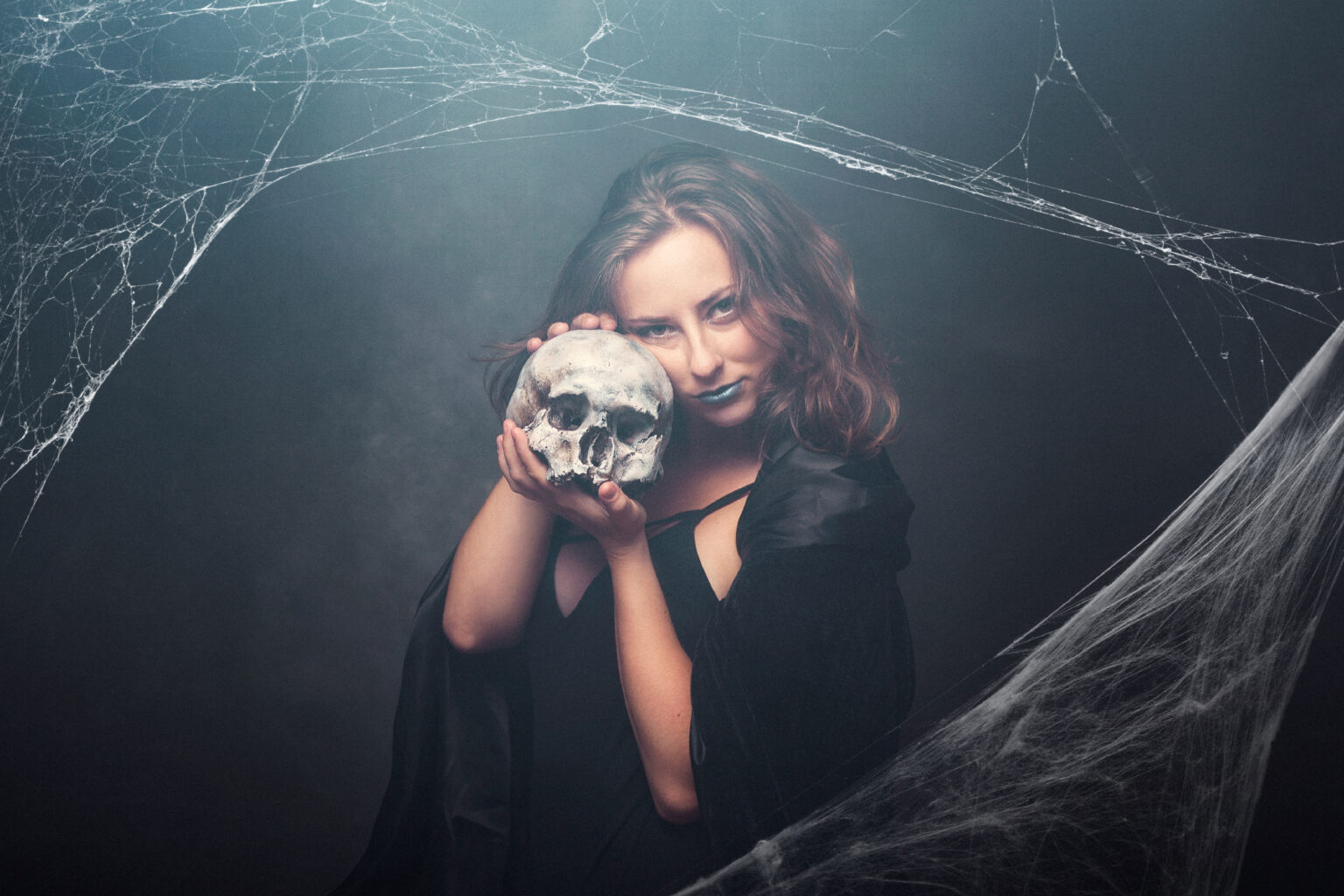 Why do we want a Haunted atmosphere?
While most visual designers are committed to trending styles with the same ideas, there are plenty of people who want something different. Something that will create an unforgettable impression and offer a scary atmosphere.
Be prepared with the tools of the brush and add elements of spider webs, haunted smokes, or candle flames to your visuals, not because not everyone wants the romantic sunsets the internet is full of.
48 brushes for a haunted atmosphere!
This digital bundle contains 48 different brushes that bring a new dimension and creativity to your digital art projects that will definitely impress your audience. No need to spend hours looking for textures or poor quality brushes. This bundle contains the key elements you need to enhance your horror artwork.



Brush of the month




This is one of the most magical brushes, in this deck to enhance the haunted and mysterious atmosphere. Brush moons are set up in several stages, including the magical full moon, and just click and add a glow effect in the surroundings to create the perfect atmosphere.



Cobweb brushes




With this brushes you can easily add impressive spider webs. Not only will they get you ready for the Halloween season, but they can add a haunted atmosphere to almost any photo.



Haunted smoke brushes




Add smoke to your visuals to add atmosphere to your projects. This smoke contains a strong noise to achieve a truly scary atmosphere.

If you need more types of smoke that is not so scary I recommend Atmospheric Smoke bundle.




Special smoke brushes




This structured smoke can be used as a cigarette or to create the impression of a blown out candle. But this special smoke can also be used in a very unconventional way, for example as a magic smoke, which after coloring the layer in Photoshop (Color overlay) and adding the "Outer glow" effect, can create the impression of a fiery flame, magic, or misty aura of a ghost.

If you need more types of smoke, I recommend Atmospheric Smoke Bundle.




Candle flame bruhes




To top it off, we bring you the flames of a candle. These brushes allow you to create a realistic candle burning effect. The atmosphere of peace and mysticism that the flames bring can be had in a few clicks.
Who is the bundle for?
This bundle will be used mainly by Photographers who want to add a fantasy or horror touch to their photos. Graphic designers who create book covers or movie posters. Web designers who need to work with a dark atmosphere and brushe in this bundle will solve their problem. And also enthusiastic artists who, like me, love original atmosphere and mystery.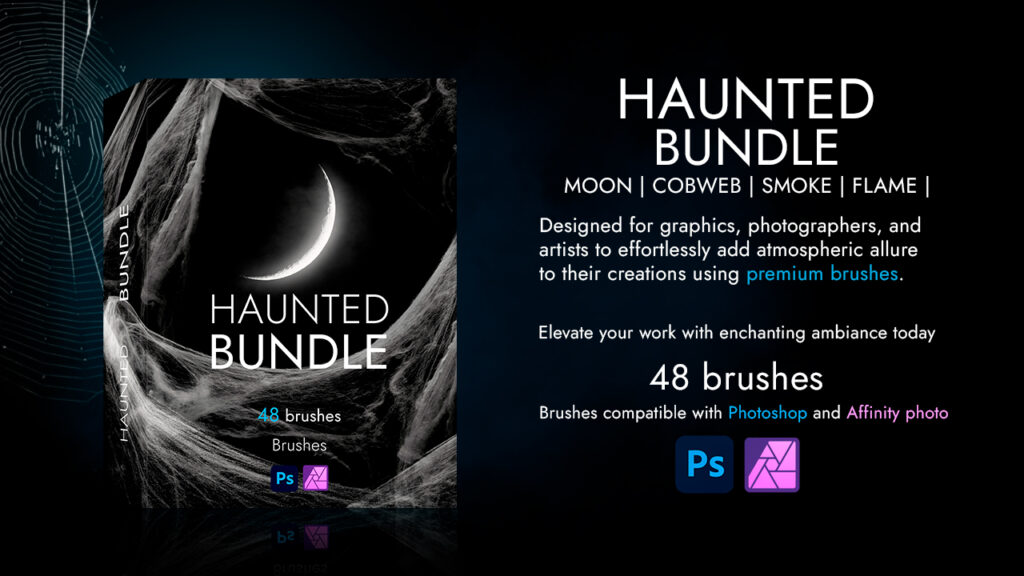 Where can you use a Haunted bundle?

Halloween


During Halloween and the season of ghosts, the haunted atmosphere is very popular. Whether you're a photographer or a graphic designer, you can use the effects from this bundle to create visuals (banners, discounts, portraits, posters) associated with the season. You can create eerie portraits, ghost scenes, which you can take to a whole other level with these brushes.
Artistic photography
Photographers often create works of art with a dark or surreal atmosphere. Such photographs can be displayed in galleries or used to express deep emotions or thoughts, and the effects from a haunted bundle can help you do just that!
horror and fantasy
Whether you're a photographer shooting dark themes, or a graphic designer creating a banner or movie poster. This bundle will definitely not be lost on you.
Photographing abandoned places
Do you take pictures of abandoned places? Are you an urbexer? Then the addition of a spider web, or a full moon, could enhance the feel of your captured photos many times over.
Wedding Photography
Yes, even in wedding photography, adding a haunted atmosphere can be desirable for some grooms and brides. For example, newlyweds can have a gothic style wedding or a photo shoot in a haunted setting that's just begging for the addition of a spider web!
Adding a haunted atmosphere to photographs is a creative process that can be used in many different situations.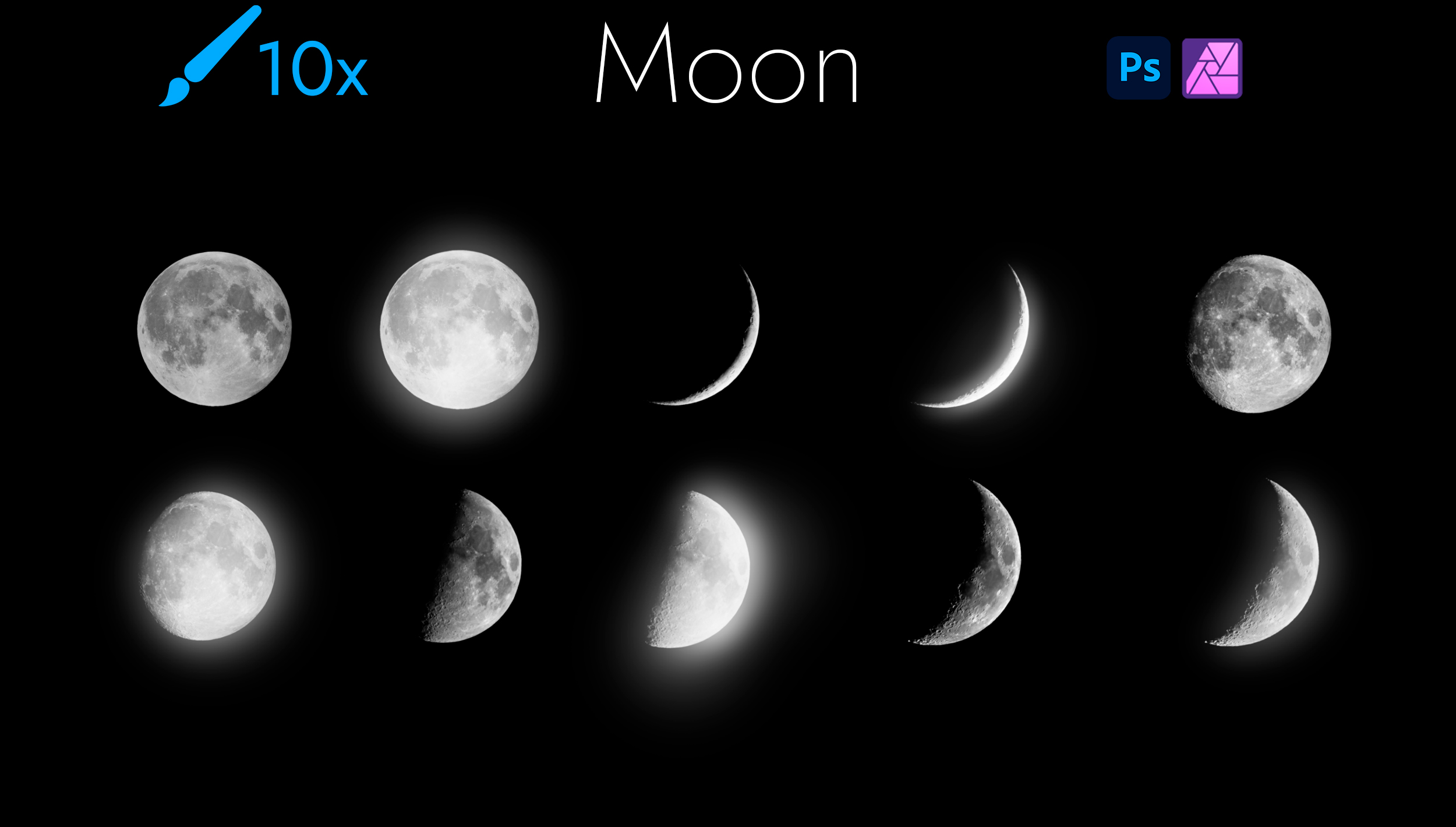 Haunted-moon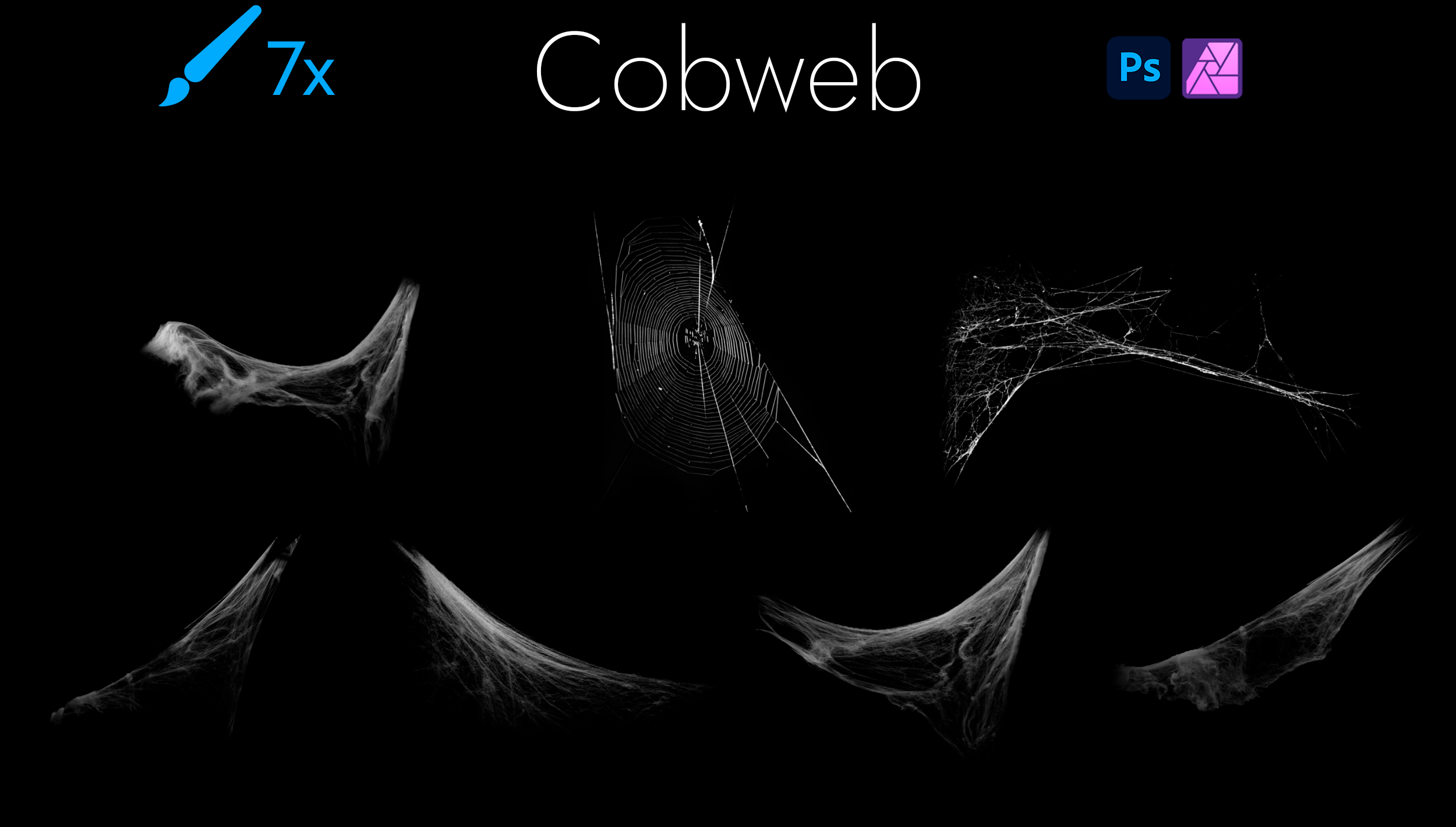 Haunted-cobweb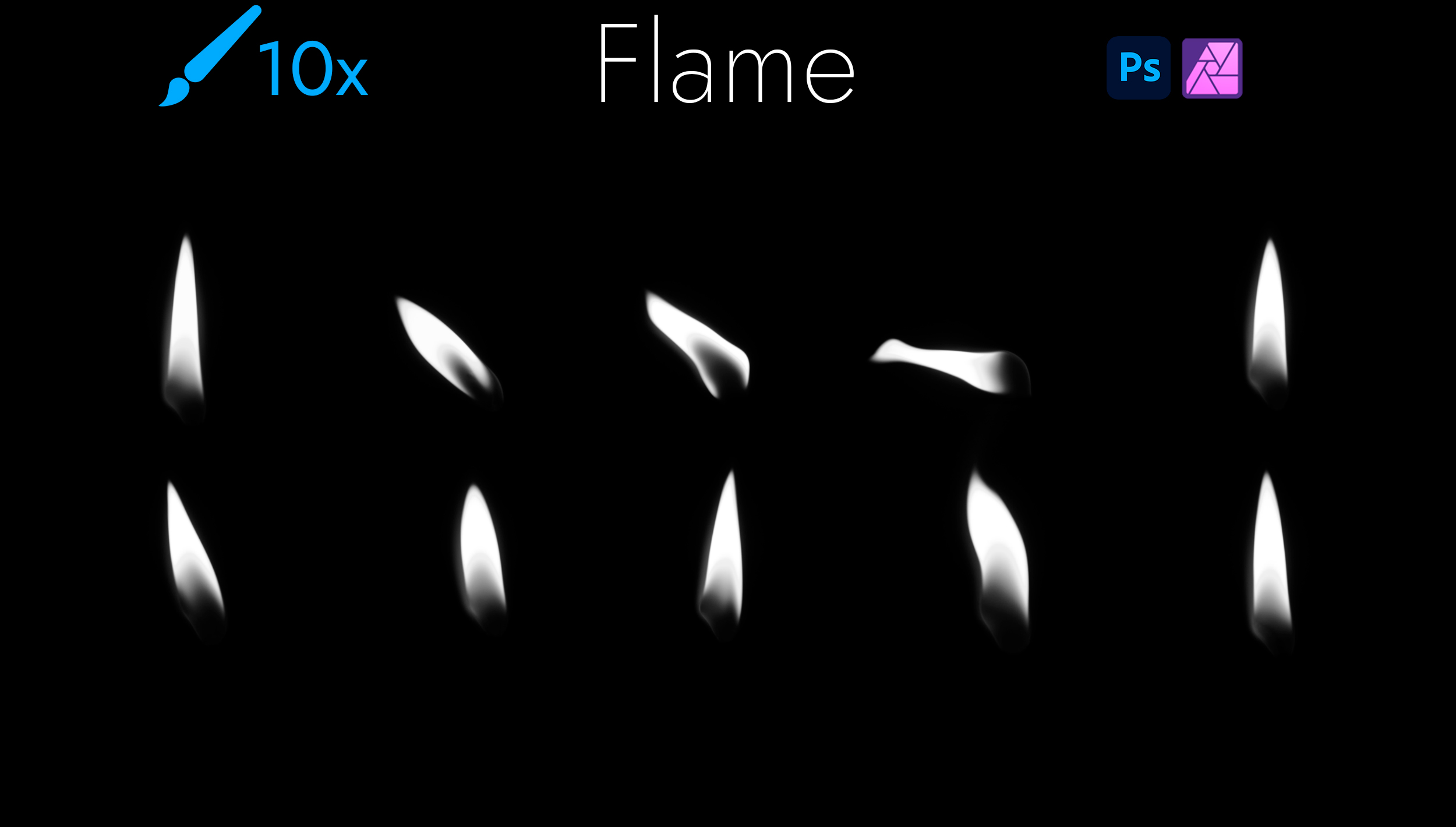 Haunted-flame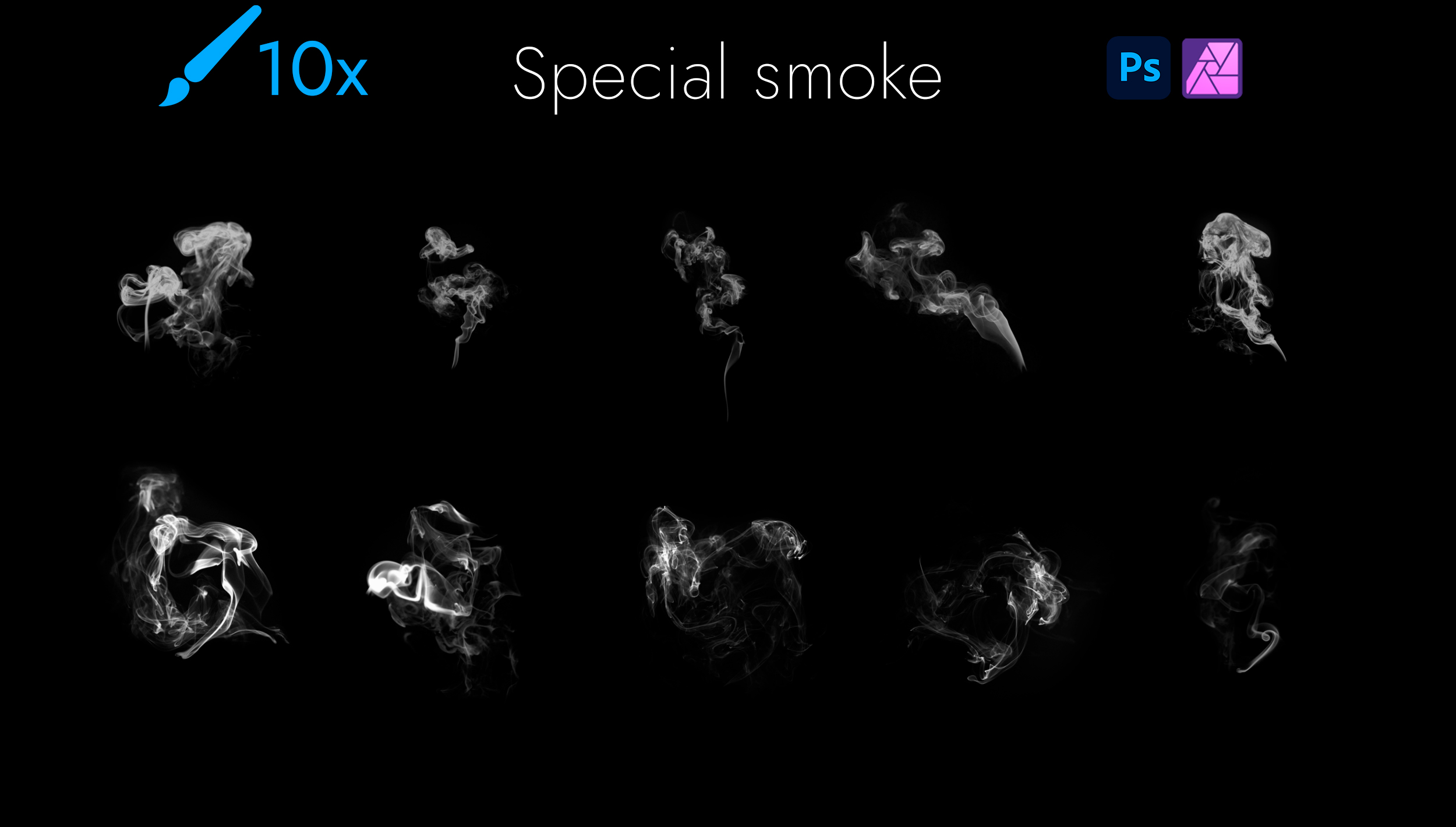 Haunted-special-smoke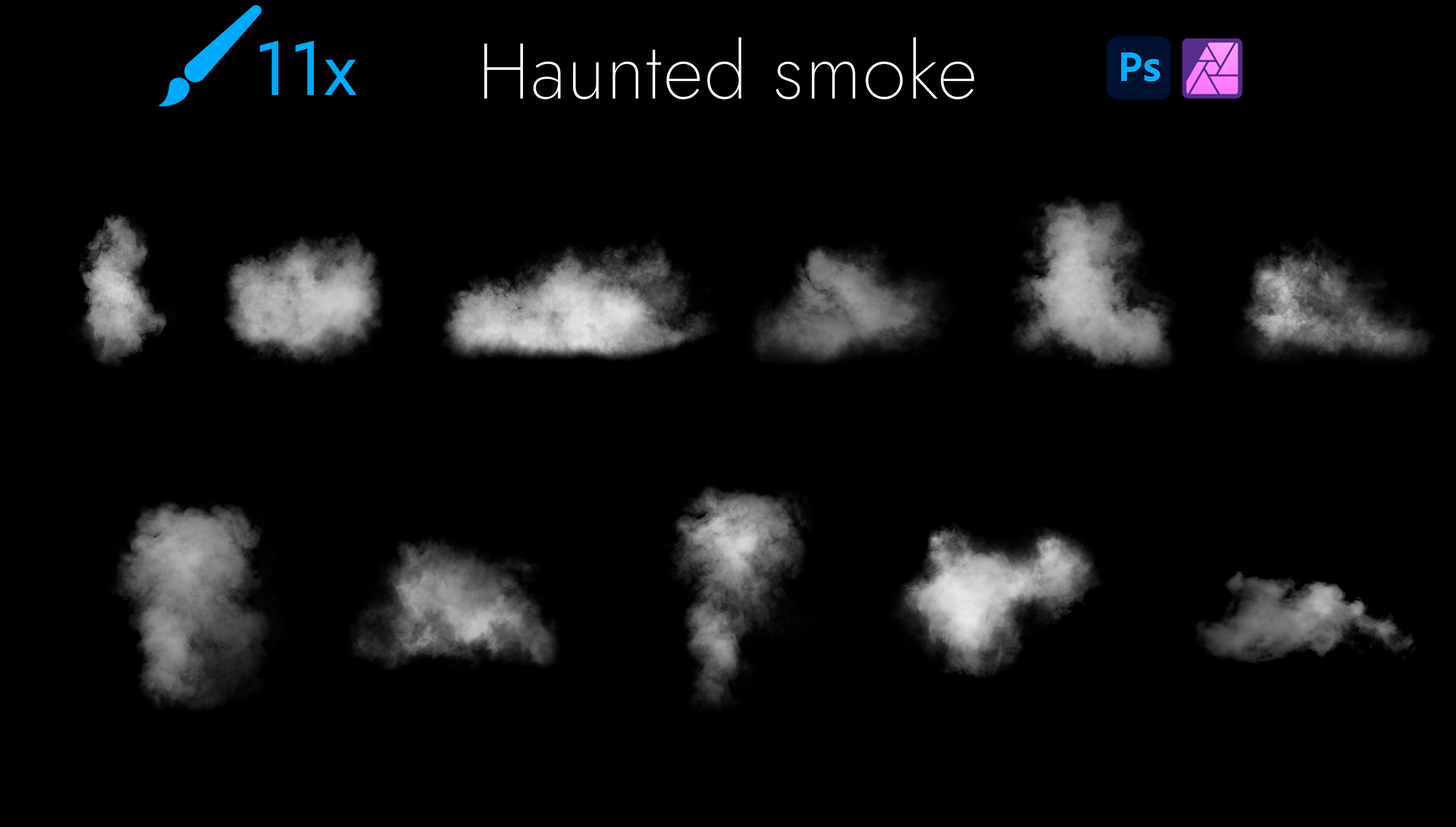 Haunted-smoke
Large bundle offering 5 categories of effects
The bundle offers 48 brushes that are key to creating a haunted atmosphere in your photos, designs and graphic projects.
Realistic moon, smoke, flame effects
Brushes are created from real photos taken with a camera. This guarantees maximum possible authenticity and realism.
Add a mysterious effect
Thanks to brushes, you'll be able to bring out the right haunted atmosphere that will give life to your works and your photos won't remain mediocre.
Versatile use
Whether you're working on product, landscape, portrait, or fantasy photography, you'll be sure to be original with this bundle.
Prepared by a professional photographer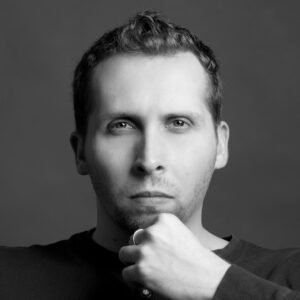 I prepared the whole bundle professionally for professional purposes. Mé jméno je Jan Oplt a jsem již 7 rokem fotografem a retušérem, moje tvorba je protkaná jak naprosto přirozenými fotkami, tak i speciálně upravovanými, díky kterým jsem nasbíral velké zkušenosti s úpravami. The adjustments I make are subtle, but add to the atmospheric quality of the photo and take it to another level.
Examples of photos with editing: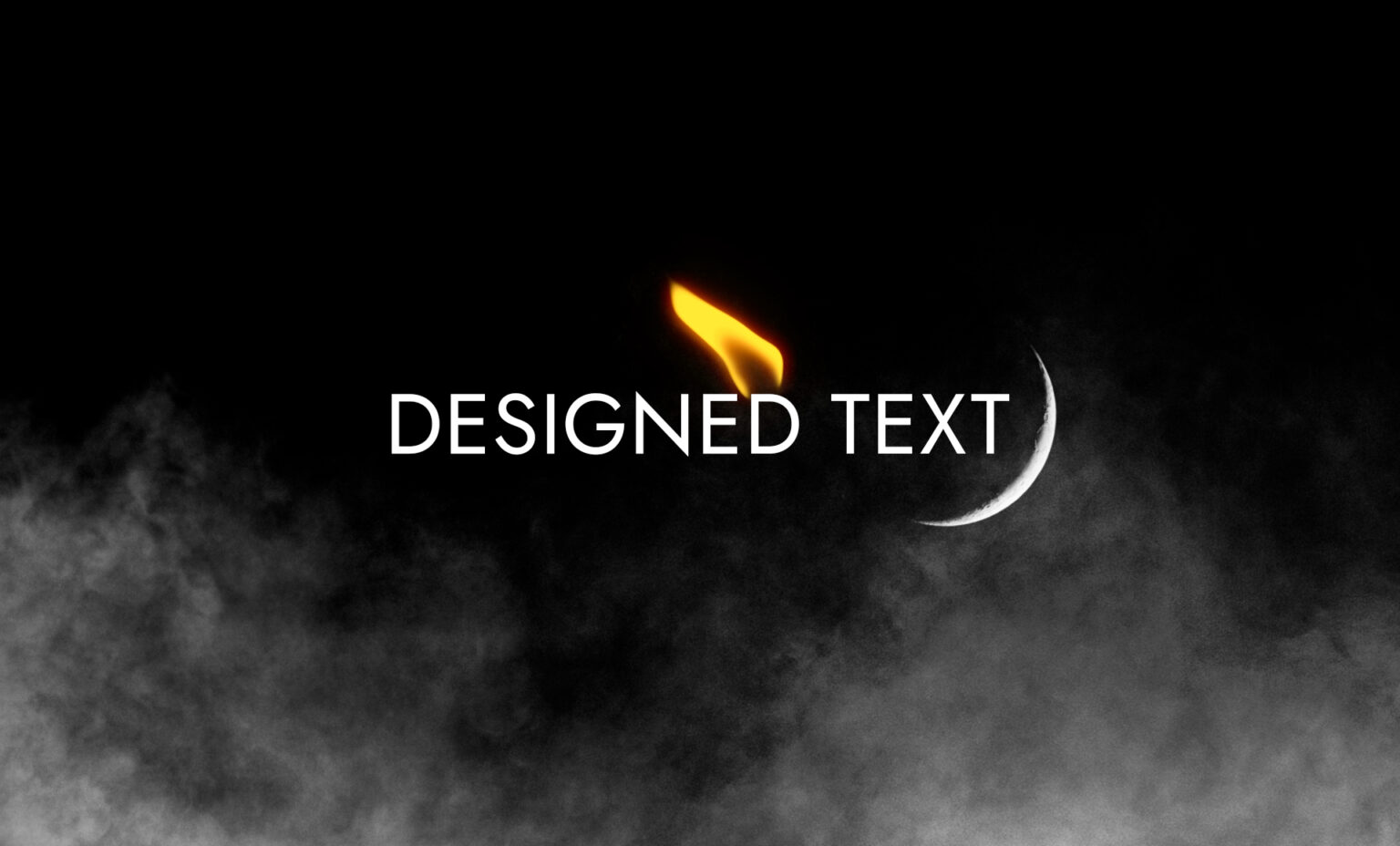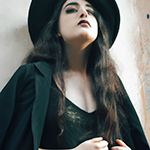 Jsem spokojená, brushe stačí na většinu mojí práce. Kdyby zde byly i overlaye dala bych pět hvězd.
Fotografka (Česká Republika)
2. září 2023

Hezký a ucelený balík. Pavučiny a měsíc patří k mým nejoblibenějším brushům pro fantasy focení.
Hobby fotograf (Česká Republika)
9. září 2023

Tento balík jsem si pořídila pro úpravu fotek na halloweenské focení. Nemám výhrady.
Fotografka (Rakousko)
29. sprna 2023



BONUS: 1 Video Tutorial




The bundle includes a detailed tutorial for using the brushes. Learn how to use them in a 4 minute tutorial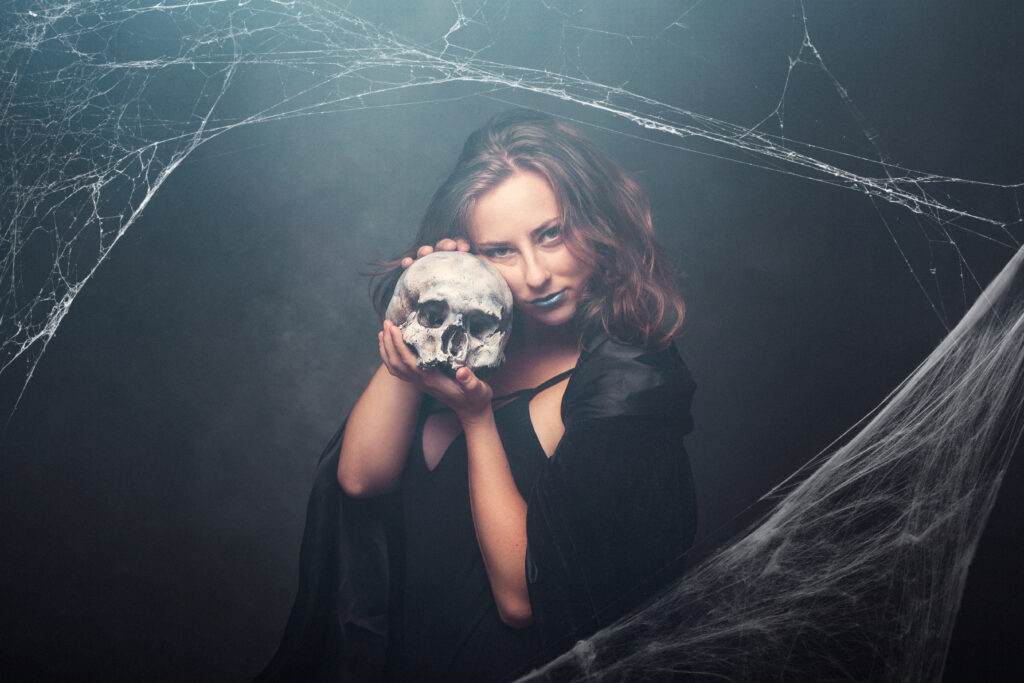 Haunted bundle


Bring a haunted, mysterious atmosphere to your creations with a bundle of brushes.

Moon | Cobwebs | Candle flames | Haunted smoke | Special smoke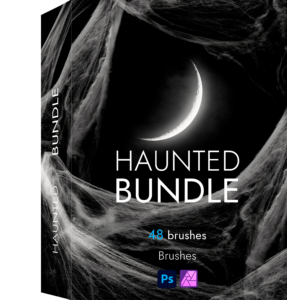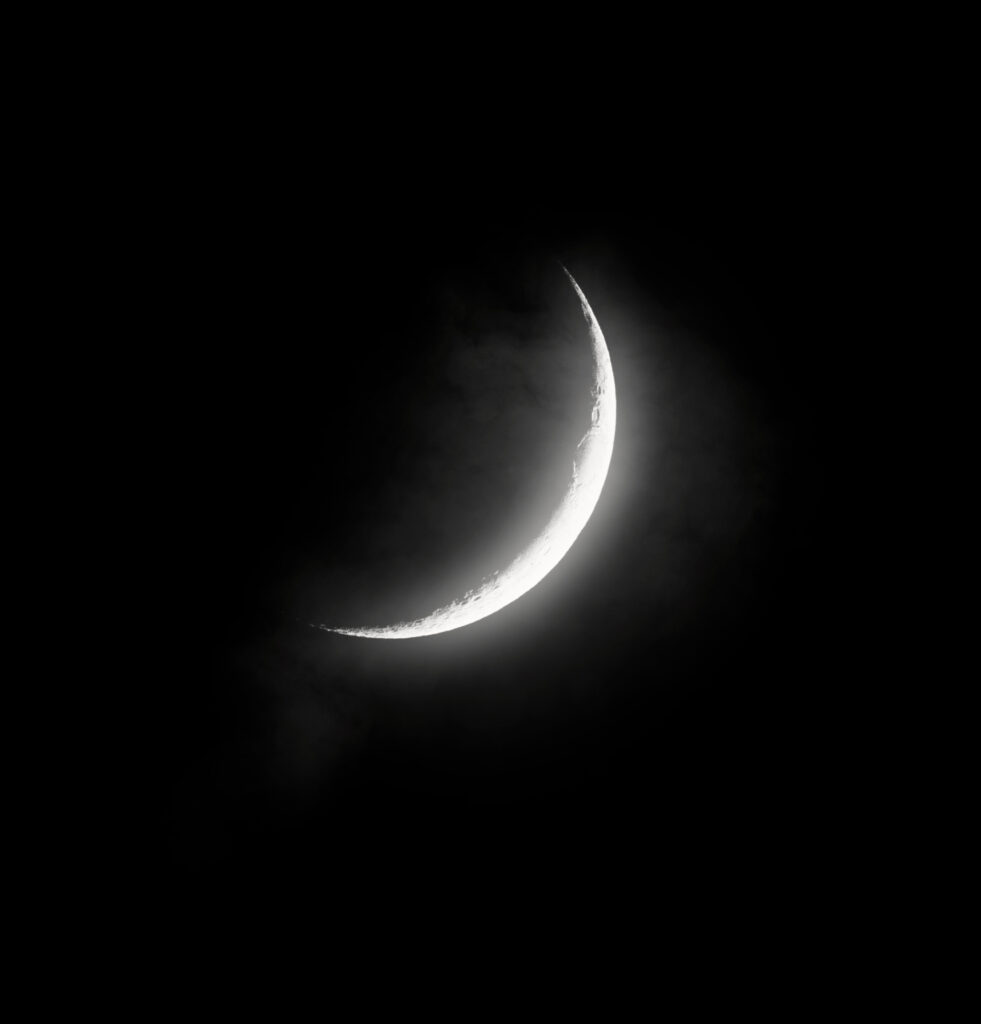 48 brushes

(16bit and 8bit quality

)
5 categories

(Web, Moon, Haunted Smoke, Special Smoke, Candle Flame

)

BONUS:

1 video tutorial

in

CZ

and

ENG

(approx.

4 min

.)
Total contains
1.2 GB
download in
ZIP format
90 day money back guarantee:
Because I've put everything into this bundle and spent a ton of time and energy preparing it, I'm so confident that it will help you that I'm not afraid to give you the option of a refund within 90 days.
Now it's up to you. Start creating something that wows your audience.
Don't let this opportunity pass you by.
Click the

"I want a Haunted bundle

" button and surprise the world with your art!

Frequently asked questions:
Contact and support
I am available to help you and with any questions or problems you may have regarding the use of overlays and brushes. Contact me via email at

[email protected]

and I will be happy to provide assistance.
Alternatively, write in the form at https://janoplt.com/kontakt/
Please
login
to post questions